Tim Scott scorches 'The View' for remarks on his relationship status: 'Stuck in Jim Crow'
Sen. Tim Scott, a South Carolina senator and Republican presidential hopeful, rejected attacks from Sunny Hostin and 'The View' over his relationship status.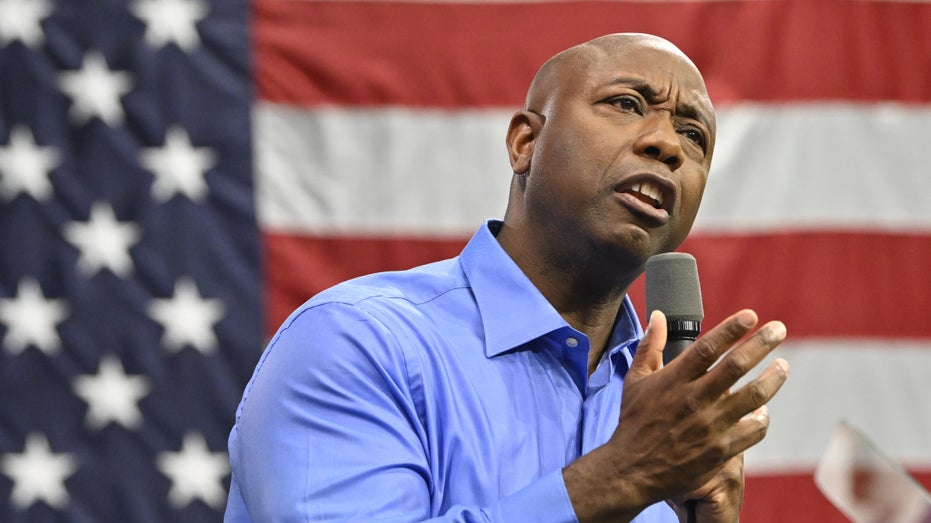 South Carolina Republican senator and 2024 hopeful Tim Scott fired back at Sunny Hostin and the hosts of ABC's "The View" on Thursday, after what he considered a racially-charged attack on his relationship status.
Hostin said that there should be concern over a figure like Virginia Thomas, the wife of Supreme Court Justice Clarence Thomas, coming into a 'President Scott's' life and potentially influencing him.
Virginia Thomas has been criticized on the left for her conservative activism while her husband sits on the bench and hears cases that may have connections to subjects pertaining to such activism.
On "Hannity," host Sean Hannity pointed out the racial element of Hostin's remarks, noting Justice Thomas – a Black man from Savannah – married a White woman from the Great Plains.
TIM SCOTT RESPONDS TO RACIALLY-CHARGED ATTACKS FROM MEDIA
"The Democratic Party and the progressive left, they are stuck in Jim Crow, 1920s and 30s," said Scott, who himself hails from North Charleston, S.C.
Scott is the first Black senator elected in the South since Reconstruction – and the third overall. Shortly after the Civil War, Mississippi elected two Black Republicans – Blanche Bruce and Hiram Revels – to the U.S. Senate. In 2020, Sen. Raphael Warnock, D-Ga., became the first Black Democratic senator elected in the South in that timespan.
Scott said "The View" and the left do not want a "Black man who thinks for himself" – and that they believe people can be anything in American except Black and conservative.
TIM SCOTT SAYS GOP VOTERS HAVE 'HUNGER' FOR POSITIVE, CONSERVATIVE MESSAGE AS HE DECLARES 2024 CANDIDACY
"That's why Sunny is so radical and so disgusting with her comments. They do not want my life story to be told because it disrupts the lies of the radical left," he said.
Scott went on to note some hosts on "The View" have their own history of racially-charged incidents, citing Joy Behar's Halloween costume from decades ago, when she wore Blackface. Behar responded to the resurfacing of the image several years ago, saying she had dressed as a "beautiful African woman."
Scott said Behar likely took the day off when he appeared on the program earlier this year because she was afraid to be called-out in person for the act.
"I went on "The View" and had a serious conversation about the greatness of America. We should all be proud to be Americans. And I can't, for the life of me, understand why the radical left wants a different country. This is the greatest nation on Earth."
He added it has been "disgusting and disheartening" to watch the Democratic Party "descend" into the 1920s.
Earlier this year, "View" moderator Whoopi Goldberg suggested Scott has "Clarence Thomas syndrome." – as Thomas has long been lambasted by the left for not toeing the line they believe to be the proper jurisprudential line based on his race.
In response to that swipe, and others from the same day's program, Scott told FOX News at the time: "We have to ignore the far left by disproving their lies by our actions." 
For more Culture, Media, Education, Opinion and channel coverage, visit foxnews.com/media. 
What's Your Reaction?